TEMPAT SAMPAH PINTAR BERBASIS IOT PADA SMKN 1 DLANGGU KABUPATEN MOJOKERTO
Ahmad Khozin

Universitas Narotama

Slamet Winardi

Universitas Narotama

Muhamad Nur Arifin

Universitas Narotama

Aryo Nugroho

Universitas Narotama
Keywords:
Tempat sampah pintar, Kebersihan Lingkungan, IoT, MQTT, INTERNET OF THINGS, Smart Trash, Environmental Hygiene
Abstract
Perkembangan teknologi pada era revolusi industri 4.0 telah membuat banyak aspek kehidupan manusia yang dilakukan sehari-hari mulai diterapkan berbagai macam bentuk inovasi guna mampu untuk dilakukan sebuah otomasi. Tidak terlepas dari masalah yang sudah umum terjadi di tengah masyarakat, seperti pengelolaan sampah dan penanganan sampah. Hal tersebut juga terjadi pada sekolah SMKN 1 Dlanggu, dimana kebiasaan yang terjadi di sekolah tersebut masih banyak para guru beserta para siswa masih rendah akan kesadaran membuang sampah pada tempat yang semestinya. Pada penelitian ini akan digunakan beberapa komponen sensor didalamnya seperti penggunaan sensor ultrasonic HC-SR04 yang berfungsi untuk mendeteksi orang yang akan membuang sampah sehingga akan membuka secara otomatis serta mendeteksi jumlah kapasitas dari volume isian tempat sampah. Selain itu digunakan sebuah mikrokontroler ESP32 yang bertugas untuk mengatur dari keseluruhan sistem yang ada. Setelah itu digunakan pula aplikasi telegram yang berfungsi untuk mengirimkan sebuah pemberitahuan kepada pengguna atau petugas jika terdeteksi tempat sampah sudah penuh. Selain itu penggunaan protokol pengiriman data untuk komunikasi antara perangkat keras dan lunak sendiri adalah menggunakan MQTT protocol. Setelah semua data masuk ke dalam server yang sebelumnya dikirim dari mikrokontroler menggunakan protokol MQTT maka data pengukuran akan ditampilkan dalam sebuah dashboard dengan menggunakan framework dari bahasa pemrograman Node Js yaitu node-red dan secara otomatis akan tersimpan dalam database MYSQL.
Downloads
Download data is not yet available.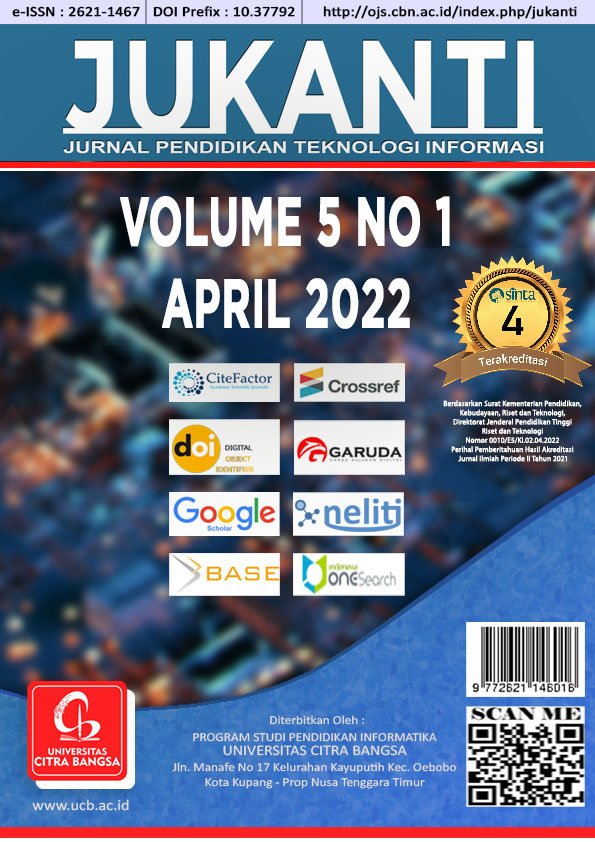 How to Cite
Khozin, A., Winardi, S., Arifin, M., & Nugroho, A. (2022). TEMPAT SAMPAH PINTAR BERBASIS IOT PADA SMKN 1 DLANGGU KABUPATEN MOJOKERTO. Jurnal Pendidikan Teknologi Informasi (JUKANTI), 5(1), 69-77. https://doi.org/10.37792/jukanti.v5i1.444
Copyright (c) 2022 Jurnal Pendidikan Teknologi Informasi (JUKANTI)
This work is licensed under a Creative Commons Attribution-ShareAlike 4.0 International License.
Every works in JUKANTI is licensed under a Creative Commons Attribution-ShareAlike 4.0 International License.
Authors who publish with this journal agree to the following terms:
Authors retain copyright and grant the journal right of first publication with the work simultaneously licensed under a Creative Commons Attribution License that allows others to share the work with an acknowledgment of the work's authorship and initial publication in this journal.
Authors are able to enter into separate, additional contractual arrangements for the non-exclusive distribution of the journal's published version of the work (e.g., post it to an institutional repository or publish it in a book), with an acknowledgment of its initial publication in this journal.
Authors are permitted and encouraged to post their work online (e.g., in institutional repositories or on their website) prior to and during the submission process, as it can lead to productive exchanges, as well as earlier and greater citation of published work (See The Effect of Open Access).